This is our story...
            The story of Welfare Group is one of challenges, pioneering, and trust. We have a solid history in the gold loan field which can be traced back to 1937, the year in which our founder Mr. P.K. Antony took over the charge of Cherupushpam Bank in Kattoor. Late Mr. Alapatt Palathingal Kunju Varredh who was the managing partner of Cherupushpam Bank in Kattoor died in 1937 and according to the partnership deed, his eldest son Mr. P.K. Antony was to take over the charge of the bank. Mr. P.K. Antony, our founder, was doing his 3rd year in 'Visha Vaidyam' at Thevara during that time. He stopped his studies and took charge of the Cherupushpam Bank at the age of 21 yrs in 1937. Cherupushpam Bank was then liquidated in 1941 and our founder Mr.P.K. Antony started a bank by himself and thus 'Welfare Group' was born on December 20th 1941 with Kattoor as our first office named Welfare Bank. Later the Welfare Group developed and expanded into almost all parts of Thrissur district with Kattoor as our Head Office.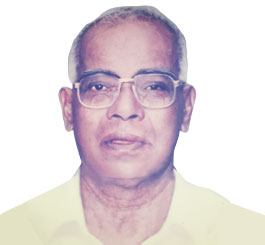 Our Founder
(Mr. P. K Antony)
Mr. P.K Antony was born in the year 1916 as the eldest son of Mr. Alapatt Palathingal Anthappan Kunju Vareed. After the death of his father, he took charge of the family business at a very young age of just 21 yrs. Those who knew him would certainly remember the passion and assertiveness he had towards his business ventures. He always be lived in the power of private enterprise to transform lives, and the value of providing a helping hand for the people during their financial needs. He was the backbone and the architecture of the entire Welfare Group. The code of ethics that Mr. P.K Antony instilled in his business life, as well as personal life, still drives our business decisions and guide all our activities. He passed away in the year 1991, but his legacy lives on each day through our work.
Our founder Mr. P.K. Antony who was the backbone and the architect of the entire Welfare Group died in June 17th 1991. Later the group was managed by his five sons as Antony son's Welfare Group. The details of our branches and other business ventures are as pointed out below along with the year in which it was started:
1941 – Welfare Firm, Kattoor Head Office
1969 – Welfare Medicals, Kattoor
1970 – Welfare Firm, Edamuttom Branch
1973 – Welfare Firm, Kaipamagalum Branch
1977 – Welfare Firm, Triprayar Branch
1978 – Welfare Clinic, Kattoor
1982 – Welfare Firm, Thrissur East Fort Branch
1986 – Welfare Firm, Irinjalakuda Branch
1987 – Welfare Jewellers, Triprayar
1990 – Welfare Firm, Thrissur West Fort Branch
1993 – Welfare Firm, Chalakudy Branch
1996 – Welfare Firm, Angamali Branch
Mr. Davis A Palathingal
Chairman
Our Chairman
(Mr. Davis A Palathingal)
Mr. Davis A Palathingal is the fourth eldest son of Mr. P.K Antony. After completing his studies from Christ College Irinjalakuda, he stepped in to the family business. With his hard work and dedication, he has made sure that he carries his father's legacy forward. He has been leading the Welfare Davis group, with the same intensity and the code of ethics that he learned from his father. He is an active member and the former state President of the Kerala Gold & Silver Dealers Association (KGSDA), a member of the All Kerala Private Bankers Association, a member of the Triprayar Sports & Games Association, a former Secretary of Lions Club of Kattoor and also a former Treasurer of the Alapatt Palathingal Tharavattu Yogam Charitable Society.
In 1999 Antony son's Welfare Group was divided in to five groups headed by P.K. Antony's five sons. Mr. Davis A. Palathingal, fourth eldest son of Mr. P.K Antony took over as the Chairman of the Welfare Group with Triprayar as our head office. In 2003 all our offices were computerized for speed and accuracy. Welfare Group also stepped in to International Money transfer services in 2005. Currently we are authorized agents for Western Union, Money Gram, Xpress Money and Trans-Fast International money transfer services. In 2012 we stepped in to the IT field under the management of Mr. John Davis Palathingal, eldest son of our Chairman, Mr. Davis A Palathingal. Welfare Infotech is an IT firm based in Kerala (India) rendering IT services to e-commerce companies in U.S.A. In 2015, by becoming the approved agent for X-Pay, we expanded our money transfer services for domestic fund transfer. Welfare Group has stepped in to the 75th year of service by Dec 2015 and we have decided to carry our business to corporate level by the incorporation of Welfare Nidhi Limited, a public limited company with registered office at Mannuthy, Thrissur. Welfare Nidhi Limited is a 'NIDHI' company declared by the Central Government of India under the section 620A of the Companies Act of 1956. Regulated by the Ministry of Corporate Affairs, Welfare Nidhi Limited belongs to the non-banking Indian Finance sector. With the help and support of all our valued customers, staffs, well-wishers and the entire management team, we intent to develop our presence and services in the years to come.
Welfare Group under the leadership of Mr. Davis A Palathingal and his two sons, John Davis Palathingal and Jose Davis Palathingal currently manages the following companies along with the year in which it was started: